The Duke of Denver, the city's royal son, has made some videos to show you his home!
Won't you join him?  Click on the video links below and enjoy:
---
---
Sorry, there was a YouTube API error:
The playlist identified with the requests playlistId parameter cannot be found.
Please make sure you performed the
steps in this video
to create and save a proper server API key.
---
---
Cheesman Park on Monumental Mysteries!  I did an episode for "Monumental Mysteries," a television show that runs nationally.  Wow!  Our little Duke of Denver, while locally famous as the city's royal son, was watched by folks all over the place; who'da'thunk?  It's about Cheesman, so click away and enjoy!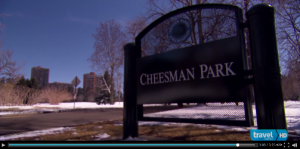 Monumental Mysteries segment on The Travel Channel