Here at Denver History Tours, we are excited to get you out and about, not just in Denver but beyond!
We offer walking tours, bus tours, presentations, class field trips, overnight camps and more.  If you want to get out and learn it, we're interested in showing it to you.  Please click on the box above to check our your specific area of interest.
Tours are scheduled as requested, based on guide availability.  All dates and times are the same for us, as long as we have a guide!  So give us a call.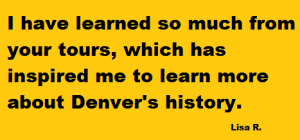 December is approaching, which means our annual Lights Tours!  If you'd like to do a Personalized Driving Tour to see the lights, we have nights available in December!  A Personalized Driving Tour means YOU drive YOUR car while OUR GUIDE sits in the car and let's you know what you're seeing!  Easy
We'll see you out there!
p.s. We offer Relocation Services, if you are considering moving to Denver.  Check out the Resources page.  Believe it or not, we also offer Disney Vacation Planning.  The Mouse and the Duke are best buds. Check out the Resources page for that too.