Denver History Tours offers a wide variety of walking tours.  They normally last two hours, unless otherwise noted.
We do not keep a set schedule for any of our walking tours. All days and times are the same for us; if there's a guide available, we will go! In order to book a walking tour, you must contact us to schedule it.  We require a minimum of TWO PEOPLE to run a tour!
Walking tours cost $20 per adult.  Teenagers (12-18) are $10 each.  Children under 12 are free; please note that children under 12 do not count toward your two-person minimum.  🙂
So, give us a call or shoot us an email, and let's see if we may get you out and walking the historic sidewalks of Denver!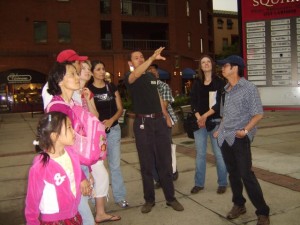 We offer the following walking tours:
Gold Dust — This is our basic orientation tour of Denver, focusing on all the original names, faces and places. It's a great tour for folks who don't know anything about the city and want to see its original heart.
Victorian Denver — This tour focuses on the finer side of downtown, where we started to get refined and built structures that would show our splendor for generations to come.
Take a Walk on the Wild Side — This is like our basic orientation tour, the Gold Dust tour, but focusing on the bad boys and bawdy girls who made us proud and made us blush!
The "Weaker" Sex — Let's learn about the history of women in the West. By the time the tour is done, you will know which sex was the weaker one!
Capitol Hill Architecture — This tour focuses on the history and splendid architecture of the neighborhood once known as Millionaires' Row.
Union Station Redevelopment — As the heart of the city moves from Civic Center to the area around Union Station, let us show you how the city is being rewritten and how dynamic its future will be with Union Station at its core.
Historic Downtown Littleton — This wonderful suburb to the south offers a great deal of beauty and history.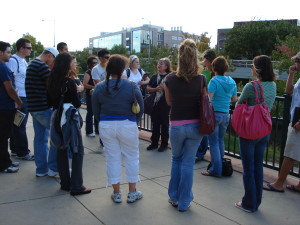 Whittier Neighborhood — This tour lasts one hour.  One of the city's original "streetcar suburbs," the Whittier neighborhood has gone through many changes, looking to the skyscrapers of downtown and the jewel on its eastern edge, City Park.
Alamo Placita Neighborhood — Once the home of the powerful and influential Mayor Robert Speer, this sometimes overlooked section of the city has amazing stories to share.
Arts District on Santa Fe — This one-hour tour focuses on the history behind the street. It's a perfect way to build a foundation in your knowledge before you visit the galleries in Denver's hottest artistic collective!
Denver International Airport —Sure, we can't get out to the concourses, but there is still a great deal to see at the city's showcase, Denver International Airport. With art, innovation, and the promise of connectivity shepherding us into the future, the possibilities beneath the canvas are numerous. Don't worry …we will keep a safe distance from the flame-eyed horse! Let's walk the gateway to the Rocky Mountains, Denver International Airport.
Baker Neighborhood — Rising on the east side of Denver's Miracle Mile, the Baker Neighborhood has some architectural surprises, historical figures of note and stories aplenty.  It's not just for things domestic; it's for fun, so let's explore it together!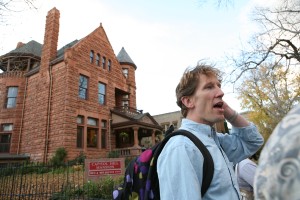 Edgewater — Though it's a city in its own right, a lot of people don't know how much this little dynamo packs into an area not even a square mile in expanse.  From the shores of Sloan's Lake and beyond, let's do some walking in a city that will keep you on the edge of wonder, Edgewater!
City Park — More than just a spot to visit a museum, zoo or walk the dog, it's a park filled with statues, stories and the face of Colorado herself.  Let's wander the bucolic wilds of City Park and learn about the mesmerizing luster under the leaves!
Arvada — This fine city northwest of downtown Denver has much history and a lot going on in its modern iteration.  From pastries to passenger trains, join us for a walk about the historic heart of Arvada.  There's much to see.
National Western Stock Show Complex— Where we express much of the finest living in the West has to offer, the National Western Stock Show Complex has interesting history and some buildings of note.  Perhaps more noteworthy for the modern day is the approaching renovation of the area.  See it before it's all new, and you'll be able to say you remember it when!
Humboldt Island — Once the street for many of the richest and most powerful folks in the city, this area immediately to the west of Cheesman Park has breathtaking architecture and stories that will steal your breath away as well.  From the noble to the ignoble, it's all there on Humboldt Island; any Prussian would approve!
Other walking tours include:
7th Avenue Historic District
9th Avenue Historic District
14th Street, in downtown Denver
17th Street, in downtown Denver
the Highlands Neighborhood
Downtown Lafayette
Bonnie Brae Alley Art
Cherry Creek Art
Globeville
Historic Downtown Golden
RiNo Arts District
Queer Denver
Historic Original Aurora
Montclair Neighborhood
Harvard Gulch
Ghost Signs of LoDo
If you'd like to learn more about these tours, please let us know!  We get out and about a lot.